As a firm focused on innovation and sustainability helping companies reach under-addressed customers and better align to priority ESG goals, it felt natural to apply for consideration in the WBENC 2023 Energy Executive Program.
The energy sector is one I have desired to understand better because climate change is a significant threat to global health and the opportunities in renewable energy and infrastructure remain promising and exciting.
Being selected to participate was an honor! I am incredibly inspired by the women in this 6th cohort comprised of 57 WBEs (Women Business Enterprises) with over $325,000,000 in Annual Revenue. We are a mix of Professional Services and Upstream, Midstream, and Downstream Service Providers to the energy industry graciously sponsored by WBENC, BP, Chevron, ExxonMobil, Hess, and Shell USA, Inc.
Throughout four 3-hour virtual sessions, we learned how the oil and gas industry is being transformed into the energy sector for a more sustainable future. The program ended with a 3-day on-site in Houston to hear directly from the partnered corporations with field trips to collaborate in person and engage in experiential learning.
The WBEs in this program are supporting the industry by working on renewable energy projects, installing pipelines, directing waste management, and managing the safety, reliability, and results of these initiatives. I came away with genuine excitement for what's possible and also a better understanding of the tension between profitability and sustainability for the partnered corporations.
The Challenge
Most of us know that oil and gas companies need to remain competitive and that improving the reliability and availability of their assets is critical. Doing this while reducing costs and carbon emissions is a real challenge yet one they are committed to but unsure how to efficiently and effectively navigate.
Digital transformation is a hot topic in the energy value chain due to its powerful potential and cost-effective ways to decrease oil and gas' carbon footprint. Yet as more projects get funded to support carbon capture and renewal, leak detection and remediation, and reliability analytics, many fail due to a variety of factors. Recent McKinsey research suggests that 70% of these digitization projects have not moved beyond the pilot phase.
Geopolitics, government hurdles, and organizational barriers create an unfortunate environment suggesting decarbonizing is much tougher than we realize. The US alone has gone through its reticence in ESG (environmental, social, and corporate governance) investments due to economic factors and the tie to political agendas.
The objec­tive of this transition is not just to bring on new energy sources, but to entirely change the energy foundations of what today is a $100 trillion global economy.
It is clear the transition is going to take "moonshot ideas" and disruptive approaches to be successful but the fundamental piece required for any progress to be made will be people and our capacity and capability to collaborate and cooperate.
The Opportunity: Innovation Partnerships
At ON ITS AXIS, we look at the intersection of people, processes, and products/programs to come up with solutions for our clients in innovation partnerships. Our proprietary framework offers an outcome-driven model that supports clients to increase market share, improve profitability, and optimize team performance in 3 distinct ways: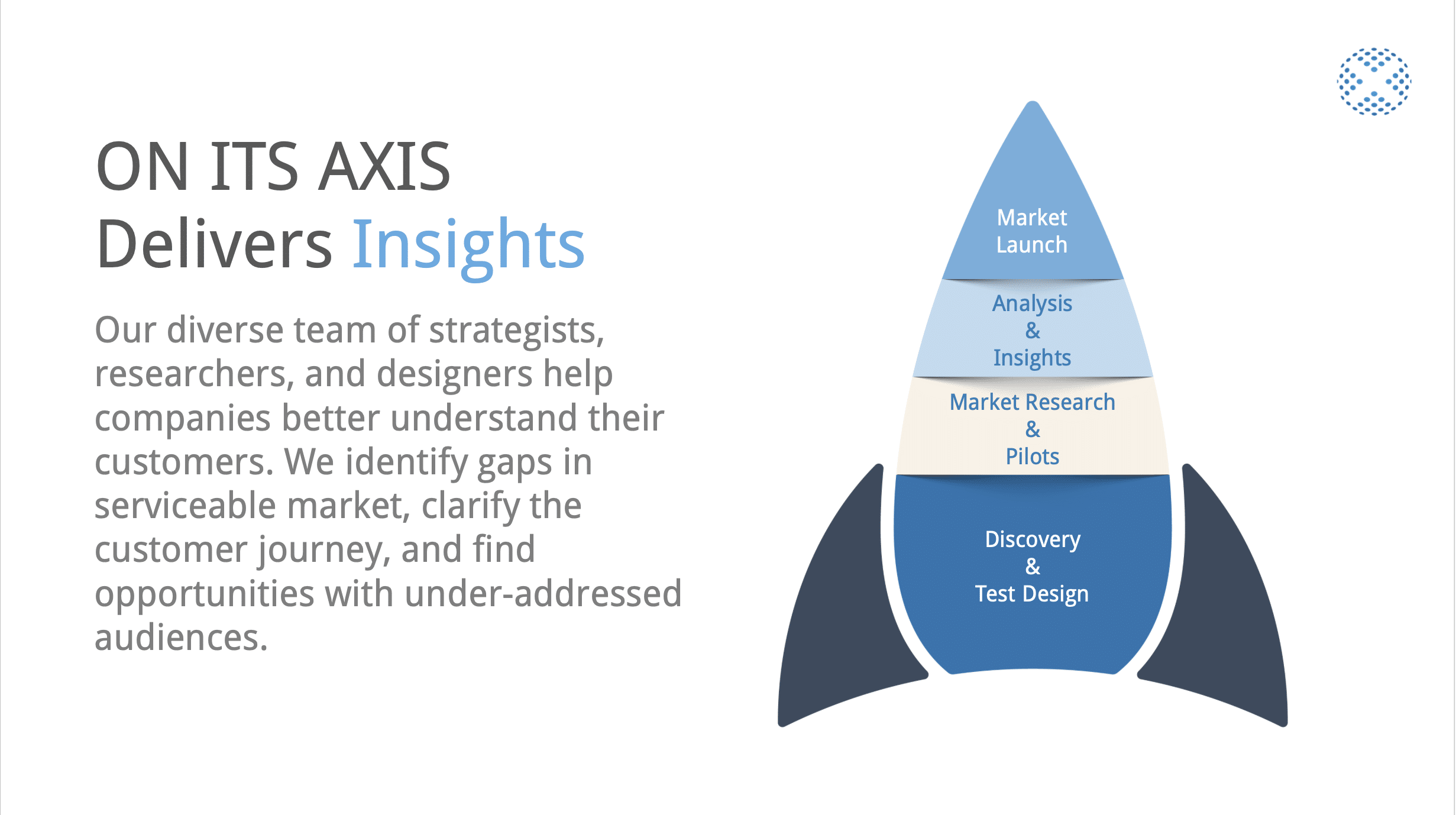 1. Delivering Insights – identifying gaps in serviceable market, clarifying the customer journey, and finding opportunities with under-addressed audiences.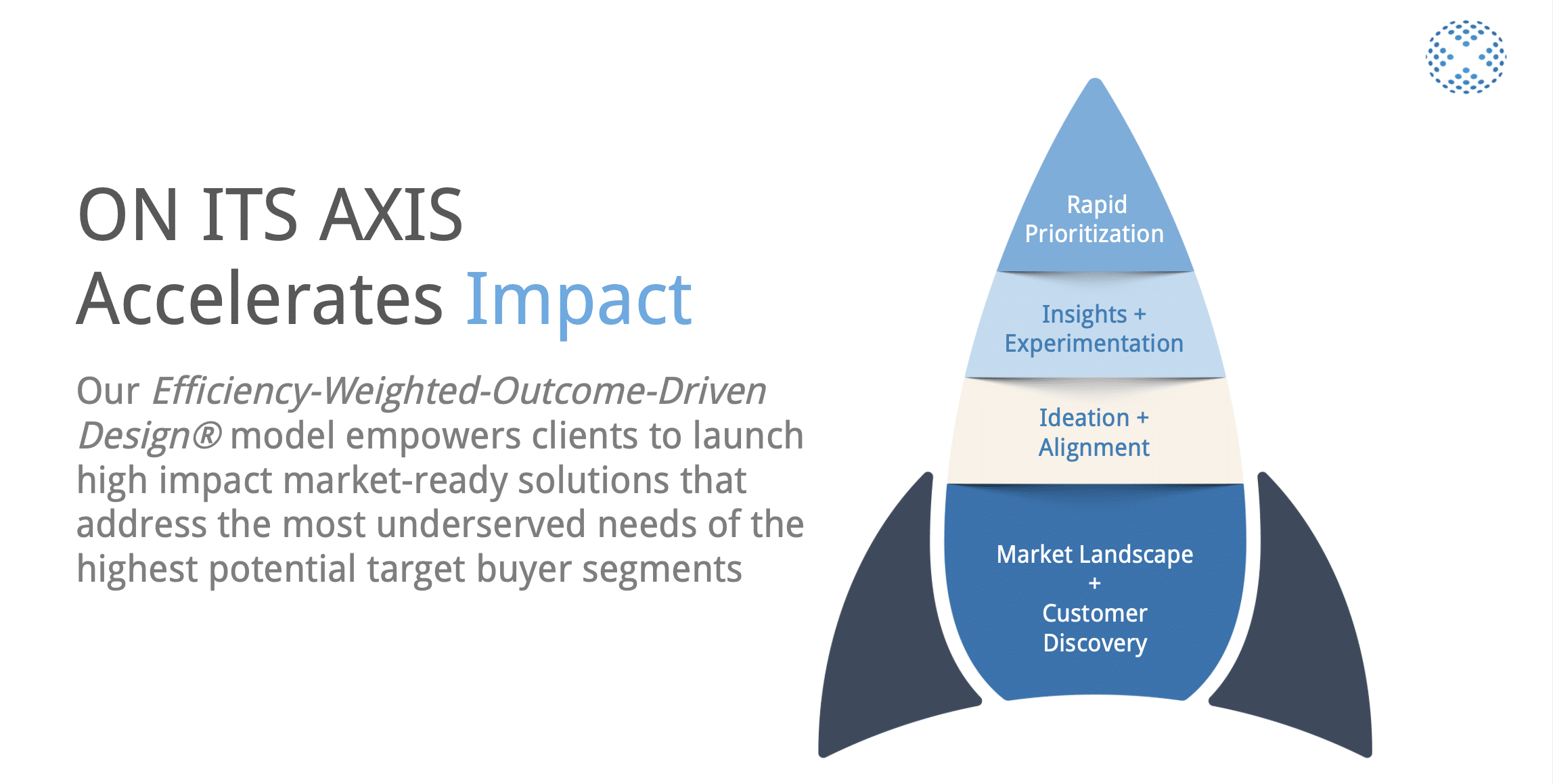 2. Accelerating Impact – creating market-ready solutions using data-driven methods.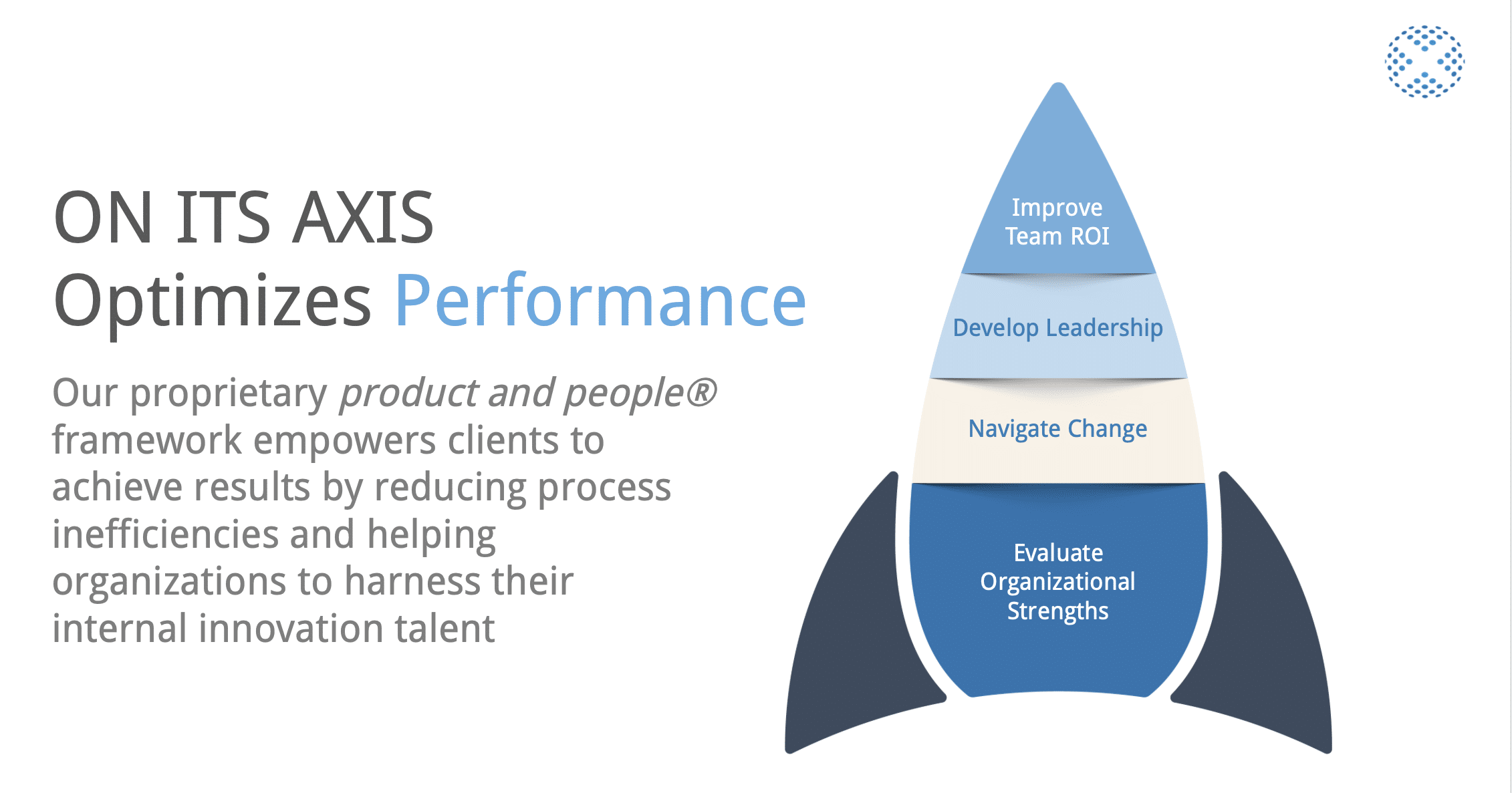 3. Optimizing Performance – improving the quality of innovation pipelines via intrapreneurship acceleration for improved ROI.
Digital and business transformation requires shifting the mindsets of leaders and their teams to discover what is feasible, viable, and desirable. By putting people at the heart of the energy transition we are best positioned to hit needed climate targets and strike a balance between profitability and sustainability.
Interested in learning more? Schedule a 15-minute coffee chat.